Webinar on OKRs – Growth Strategy for your Business Sep 17th 2021 – Friday – 3PM – 4PM
"Ideas are Easy. Execution is Everything" – John Doerr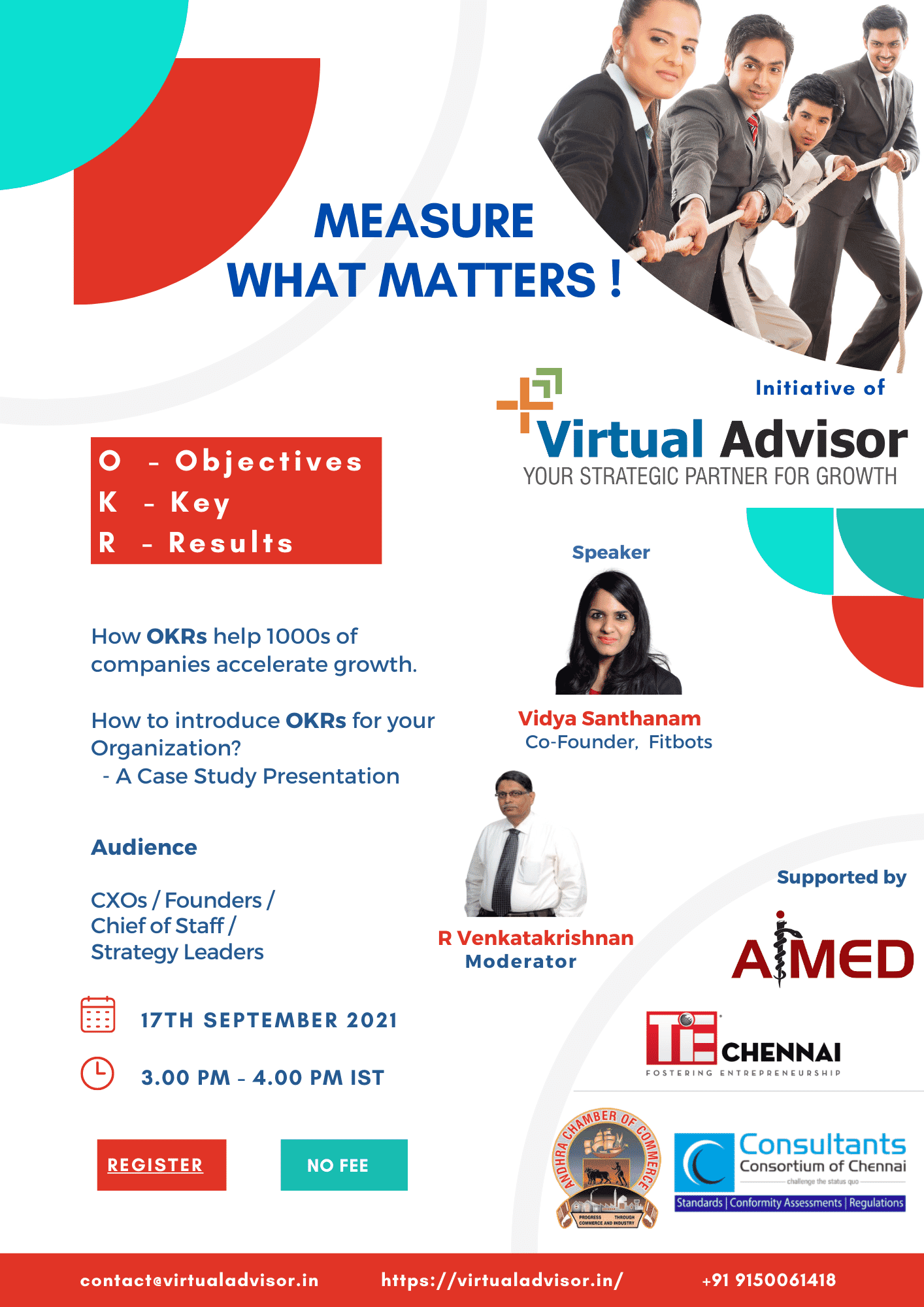 How OKRs help 1000s of companies accelerate growth
O – Objectives
K – Key
R – Results
What is OKR ?
Objectives and Key Results (OKR) are a goal-setting framework that helps organizations define goals — or objectives — and then track the outcome.
OKR is a concept widely accepted in the digital landscape as well as offline market to inspire and motivate their employees. It answers the major questions like:
Where do I want to go?
How do I pace myself to see if I am getting there?
OKRs provide organizational focus to teams and help in drastically improving productivity.
Download a brief note on OKR to understand a little about the same :
Session Focus
How to introduce OKRs for your Organization?
– A Case Study Presentation
Target Audience
CXOs / Founders / Chief of Staff / Strategy Leaders
Program Agenda
Speaker Session – 40 minutes
Q & A – 20 minutes
Webinar Outcome
What are OKRs ?
Why are OKRs being adopted by CXOs globally?
A case study presentation – An OKRs implementation story
Registration
No Registration Fee but prior registration is a must.
Registered Participants shall get confirmation mail 2 days before the program.
Registration Link :
Contact Co-ordinate
D C Sriram
RVK Business Advisory Services P Ltd
Email – contact@virtualadvisor.in
WA – +91 9150061418
Download Program Brochure
Virtual Advisor on Social Media
https://www.youtube.com/channel/UC5_HedmdImYZ-9hxgv27LYg/featured