DoP Announcement – Call for Updating, Listing of Domestic Manufacturers in India
Announcement from DoP to Local Manufacturers of Specific Medical Devices / Equipment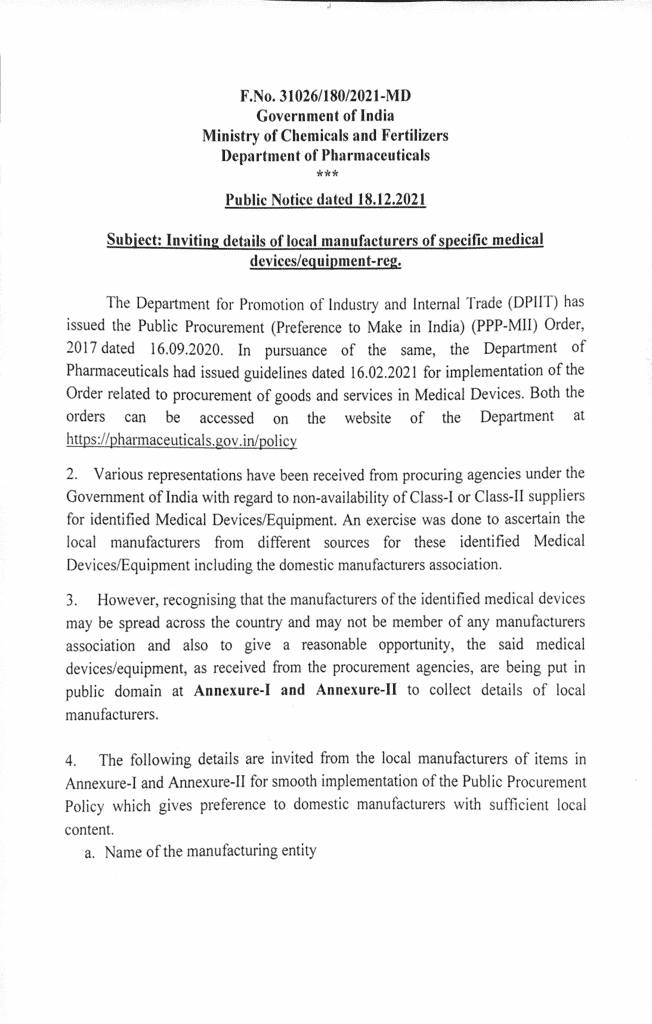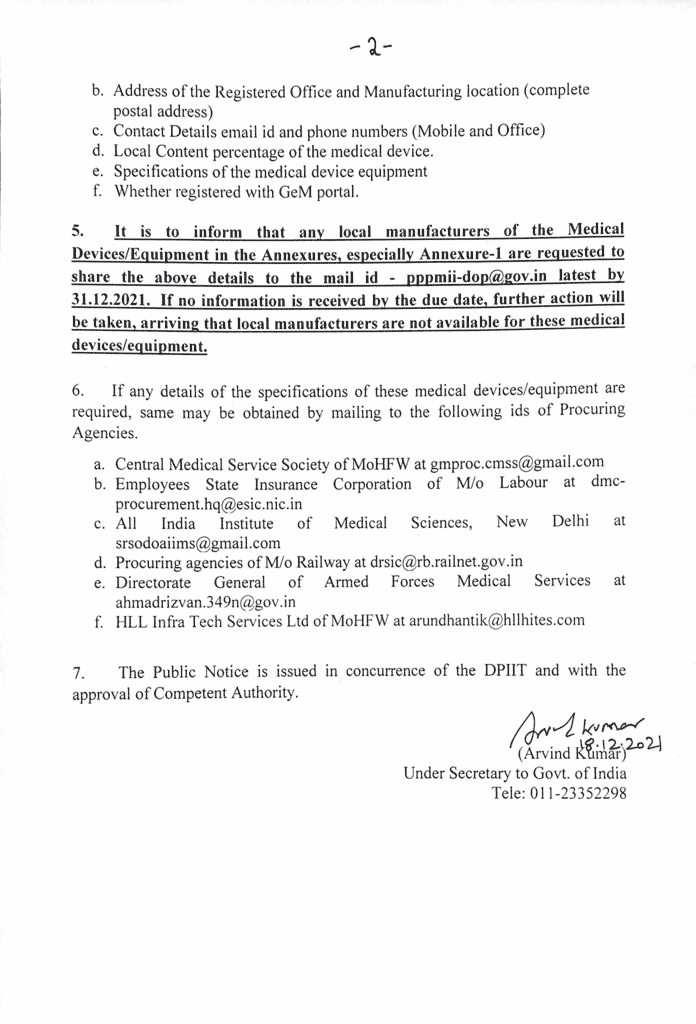 ANNEXURE – I
This Annexure contains the list of Medical Devices/Equipment, for which, the details of local manufacturers are not available, as per the details collated from the Domestic
Medical Device manufacturing Associations such as AiMED & ADMI and KIHT (based on the details of medical devices, as furnished by the procuring agencies)
LIST-1 of 128 Medical Devices/Equipment
| | |
| --- | --- |
| S.No. | Name of Medical Device/Equipment |
| 1 | Intra-aortic balloon Pump (IABP) |
| 2 | Video Assisted Thoracic Surgery (VATS) and Minimally Invasive Cardiac Surgery instrument set |
| 3 | Flow Track Cardiac Output Monitoring (EV1000) |
| 4 | Sander's Jet Ventilator for Emergency Airway |
| 5 | ENT Coblator system with standard set of wands |
| 6 | Automated Identification and antibiotic susceptibly system |
| 7 | Automated Semen Analyzer |
| 8 | Histopathology fully automated H& E slide Stainer |
| 9 | Fully Automated IHC Stainer |
| 10 | Auto PAP cervical cancer screening system with HPV |
| 11 | Automatic components preparation machine |
| 12 | Visual Field Analyzer |
| 13 | Cystoscope paediatric cystoscope |
| 14 | Flow Cytometer |
| 15 | Flexible cysto-nephoscopy |
| 16 | T Piece Resuscitator |
| 17 | CO2 Fraction Laser |
| 18 | Diode Laser |
| 19 | Q-Switched ND YAD Laser |
| 20 | Video Bronchoscope set Adult, Paediatric, and Neonatal |
| 21 | Surgical Operating Microscope |
| 22 | Cavitational /Cavitron – Ultrasonic Surgical Aspirator (CUSA) |
| 23 | Endobronchial Ultrasound System |
| 24 | Rotary Microtome |
| 25 | Magnifying surgical loups |
| 26 | Endoscopic Saphenous Vein Harvesting (EVH) System |
| 27 | Intra operative Imaging and TTFM for CT Surgery |
| 28 | DEXA Scan |
| 29 | Radio surgery equipment |
| 30 | Near Infrared Spectroscopy |
| 31 | Fluid therapy |
32
Near Infrared Spectrometer (NIRS)
33
Electro Physiology (EP) System
34
TOF Monitor/Watch for Neuro Muscular block
35
Transcranial Doppler
36
Low Temperature Hydrogen Peroxide Gas Steriliser
37
Mannequins (Laerdal) for training of CPR for COVID Preparedness
a) Intubation
b) Cardio Pulmonary Resuscitation (CPR)
c) Peripheral, Central and Arterial Cannulation
d) Front of neck Access (Cricothyroidotomy and tracheostomy)
38
Image Analysis Tools/ Trinocular Compound Phase Contrast Microscope for Andrology Lab
39
Gas Analysis Apparatus Halden's Student Type
40
Gas Analyzer Automatic for CO2, O2 and N2
41
High end Operating Microscope
42
Plasma Coblation System
43
Stroboscope
44
ENT Skull Base Navigation System
45
Automated Microbial Identification and Sensitivity System
46
NAT Analyzer
47
Cryostat
48
Vitek2-Automated Microbiology Susceptibility Testing Analyser
49
FFR Machine (Fractional Flow Reserve)
50
VIDAS
51
Kingfisher Flex
52
ACL Elite
53
Cytoprep Centrifuge with Vortex Mixer
54
Antigen Retrieval System
55
Trans Oesophageal Echo Cardiograph
56
IVUS –Volcano
57
STERRAD -100 NX All Clear
58
Minimally Invasive Cardiac Instruments
59
Impella
60
Endourology set
61
Cystoscope Karl Storz
62
Video Endoscopy Systems
63
Floppy wire with extra support 0 Coronary Angioplasty
64
Fully Automated Non-Contact Tonometer
65
Optical Biometer
66
Phaco Machine with Posterior and Anterior Vitrectomy
| | |
| --- | --- |
| 67 | Portable Ultrasound Machine for Anaesthesia and Vascular Access |
| 68 | Activated Clotting Time Machine |
| 69 | Thromboelastogram (TEG)/ Thromboelastometer/ ROTEM |
| 70 | Bone Anchored Hearing Aid (BAHA) Sound Processor with Soft Band. |
| 71 | CI Speech Processor for Cochlear Implant |
| 72 | Bi-Ventricular Pacemaker with Quadripolar LV Lead |
| 73 | DDDR with Matching Electrodes Pacemaker |
| 74 | MRI Conditional Automatic Implantable Cardioverter Defibrillator (AICD) |
| 75 | MRI Conditional Cardiac Resynchronisation Therapy – Pacing (CRT- P) |
| 76 | Single Chamber (SSI) MRI Compatible Pacemaker |
| 77 | Single Chamber Temporary Pacemaker |
| 78 | Non-complain /semi complain /CTO coronary balloon. |
| 79 | Vacuum Heart Stabilizer System for off Pump CABG |
| 80 | Expandable Corpectomy device |
| 81 | Biomimetic Synthetic Absorbable Dural substitute of sizes |
| 82 | AO TRS Modular Drive for Drill/Reamer |
| 83 | AO TRS Modular Sagittal saw system |
| 84 | Battery Oscillator |
| 85 | Arthroscopy Systems |
| 86 | Navigation System for Neurosurgery & Orthopaedic Surgery |
| 87 | Time Lapse Embryo Imaging System |
| 88 | Portable Mobile Endoscopy Unit |
| 89 | Cryoprobe |
| 90 | Isothermal Calorimeter (ITC) |
| 91 | Electrical Impedance Tomography |
| 92 | FNIRS (Functional Near Infra-Red Spectroscopy) System |
| 93 | Automated Hand-Held Analyzer |
| 94 | Automated High Throughput Liquid Based Cytology (LBC) System |
| 95 | Automated IHC (lmmunoHistochemistryStainer) |
| 96 | Automated Slide Stainer for Histopathology |
| 97 | 3T Digital PET/MR |
| 98 | Dual Particle Cyclotron on buyback basis |
| 99 | Sweat Collection and Chloride Estimation |
| 100 | Automated Bronchoscope Cleaning Equipment |
| 101 | Electronics and console for the existing 700 MHz NMR Spectrometer |
| 102 | Video bronchoscope with mobility of tip in four directions |
| 103 | Freeze Facture System |
| 104 | Cryo Plunge Freezing Unit |
| 105 | Biological High- Resolution Atomic Force Microscopy |
| 106 | Carbon Coater (Evaporator) for grids |
| 107 | HemostasisAnalyzer System |
| 108 | Auricular Reconstruction Set |
| 109 | Thin Layer Chromatography Liner Analyser for lipid analysis |
| 110 | Digital Slide Scanner System |
| 111 | Full Endoscopic lumbar IT & ED set |
| 112 | Rapid Blood/Fluid Flow warmer |
| 113 | Fully Automated Computerized Archival System for Histopathology & Cytology Slides |
| 114 | Vacuum Assist Drainage Controller Device |
| 115 | VAP Care System |
| 116 | Cryoablation Unit |
| 117 | 3D Printer Hardware with SLA (LFS) TM Technology and Machine interface software |
| 118 | Transcutaneous Oxygen Monitor |
| 119 | Non-Invasive Jugular Oximetry Monitor |
| 120 | Dedicated Solid-state cardiac SPECT Camera |
| 121 | Hemodynamic Recorded for Cardio Vascular Lab |
| 122 | Gel Documentation System |
| 123 | Automatic Colony Counter |
| 124 | Droplet Digital Polymerase Chain Reaction System (PCR) |
| 125 | Multi-block PCR Machine |
| 126 | Integrated Automated Charting System upgradable for ICU Monitoring System |
| 127 | Viscoelastic Global coagulation Testing Device |
| 128 | Robotic Surgery System with accessories |
LIST – 2 of 365 Medical Devices/Equipment
| | |
| --- | --- |
| S.No | Name of Medical Device/Equipment |
| 1 | 3 feet IVF workstation with stereo microscope & camera |
| 2 | 384 well block, 96-well block and open array real-time PCR system |
| 3 | 4D Echo Cardiography |
| 4 | 532 nm Green Laser Console |
| 5 | Advanced Flow Cytometer |
| 6 | Advanced High Energy Linear Accelerator (LA) System |
| 7 | Agarose Gel Electrophoresis System |
| 8 | Air Particle Counter |
| 9 | Ambulatory blood pressure Monitor Continuous Glucose Monitoring System |
| 10 | Anaerobic work station with gas cylinder complete |
| 11 | Animal Stimulator Software for Pharmacology |
| | |
| --- | --- |
| 12 | Antibiotic Zone Reader |
| 13 | Apheresis Machine |
| 14 | ATLS Practising Manikin |
| 15 | Atomic absorption Spectrophotometer (AAS) with hydride generator |
| 16 | AutorefractorKeratometer |
| 17 | Autoanalyzer immunoassay (chemiluminescence based) – fully automated with UPS back up |
| 18 | Automated bacterial identification system |
| 19 | Automated Capillary DNA Sequencer |
| 20 | Automated Cell Viability Analyser with computer, printer and UPS |
| 21 | Automated Clinical Electrophoresis |
| 22 | Automated continuous monitoring standalone blood culture system |
| 23 | Automated Coverslipper |
| 24 | Automated digital slide scanner |
| 25 | Automated liquid handling system for Serial Dilutions |
| 26 | Automated Microbial Identification and Antimicrobial Susceptibility Testing System |
| 27 | Automated Nucleic Acid Purification system (96 well) |
| 28 | Automated Perimeter |
| 29 | Automated Protein Purification System (FPLC)- |
| 30 | Automated rapid T.B culture and drug sensitivity detection system for 960 samples |
| 31 | Automated Real Time qPCR with four sample modules |
| 32 | Automated Slide Stainer |
| 33 | Automated Tissue Microarrayer & TMA Software |
| 34 | Automated Urine Analyser |
| 35 | Automated Vascular Doppler Recorder for ABI/TBI/Segmental Pressure |
| 36 | Automatic Chemistry Analyzer |
| 37 | Basic Transcranial Magnetic Stimulator |
| 38 | Battery operated drills |
| 39 | Bench top flow cytometer |
| 40 | Bench Top Fourier Transform NMR System (Lower version) |
| 41 | BERA with ASSR |
| 42 | Bio-Fermenter 25-50L |
| 43 | Biplane DSA |
| 44 | Bipolar Resectoscope with Microprocessor Controlled Electrosurgical Unit |
| 45 | Blood & Fluid Warmer HL 90 (PAC) |
| 46 | Blood & Fluid Warming Device |
| 47 | Blood Bank Management System Using RFID Technology (PAC) (Biolog-id) |
| | |
| --- | --- |
| 48 | Blood Gas Analyser |
| 49 | BLS Practising Manikin |
| 50 | Body Plethysmograph with Diffusion Study |
| 51 | bone filler device |
| 52 | Bronchoscopy/Oesophagoscope |
| 53 | Cardiac autonomic neuropathy analyser |
| 54 | Cardiopulmonary Bypass Machine |
| 55 | Cardiotocography Machine |
| 56 | C-arm Image Intensifier with DSA and Radiolucent Table |
| 57 | Cartridge base nucleic acid amplification system (CBNAAT)-16 cartridge module |
| 58 | CATH Lab including All accessories and EP |
| 59 | CELL COUNTER (3 PART DIFF.) |
| 60 | Cell Counter (6 parts) |
| 61 | Cell Morphology Biosensor |
| 62 | Cell Saver |
| 63 | Chemiluminescence & Gel imaging & analysis system |
| 64 | Chemiluminescence enzyme immunoassay processing system (CLEIA) |
| 65 | Chemiluminescence and fluorescence doc imaging system (chemidoc imaging system) |
| 66 | CHNS Analyzer |
| 67 | Close Sterility Test System |
| 68 | CO2 Laser |
| 69 | Coaxial Ophthalmoscope Rechargeable |
| 70 | Colour Doppler |
| 71 | Colour Doppler (2D & 3D) |
| 72 | Colour Doppler 4D |
| 73 | Colour Doppler with all general-purpose probes |
| 74 | Combined Ultrasonic Cutting, Coagulation & Vessel sealing System |
| 75 | Complete Chromatographic Unit for paper & TLC |
| 76 | Computer Assisted Semen Analyzer |
| 77 | Computerized Biofeedback Machine |
| 78 | Cone Beam Computed Tomography |
| 79 | Continuous Glucose Monitoring System |
| 80 | CR System |
| 81 | Cranial Stabilization system |
| 82 | CRRT Machine |
| 83 | Cryo -Microtome (1 in class B) |
| 84 | Cryo Surgical System |
| 85 | Cryotherapy |
| | |
| --- | --- |
| 86 | CT 128 Slice |
| 87 | CT 256 Slice |
| 88 | CT Simulator System |
| 89 | Cyclotron |
| 90 | Cystoscope-resectoscope-VIU-Cystolithotripsy-TURis Adult set |
| 91 | Densitometer with computer |
| 92 | Derma scope |
| 93 | DEXA Scanner (BMD) |
| 94 | Difficult Airway management simulator |
| 95 | Digital Colorimeters |
| 96 | Digital Fundus Camera |
| 97 | Digital Non-Mydriatic Fundus Camera |
| 98 | Digital Polarimeter Multi wavelength with printer |
| 99 | Digital Refractor Meter |
| 100 | Digital Slide Scanning System with Research Grade Microscope and Image Analysis Software |
| 101 | Disintegration Test Equipment (1 basket for 6 tablets) |
| 102 | Dissolution Apparatus |
| 103 | Dissolution Apparatus with Auto Sampler |
| 104 | Dissolution media preparation and delivery system |
| 105 | DNA Sequencer (24 Capillary) +Computer |
| 106 | DNA Sequencer (96 Capillary) +Computer |
| 107 | Double beam UV spectrophotometer (UV-Vis, variable wavelength, glass and quartz cuvettes with data analysis software and computer interface and power back-up) |
| 108 | Double door autoclave 200 L |
| 109 | Drug Discovery Suite |
| 110 | Dual action Ultrasonic plus Pneumatic lithotripter |
| 111 | ECHO and USG Machine |
| 112 | Echocardiography 2D machine |
| 113 | Elbow & Ankle Arthroscopy |
| 114 | Electro Convulsive Therapy (ECT) machine |
| 115 | Electrohydraulic Urology operation theatre tables |
| 116 | Electrolyte analyser |
| 117 | Electron Microscope |
| 118 | Electronic Blood Cell Counter with six-part differential |
| 119 | Elevated grossing station |
| 120 | ELISA (Demonstration) |
| 121 | Elisa reader with washer and shaker |
| 122 | Elispot Reader |
| 123 | Embryonic/Foetal development model |
| | |
| --- | --- |
| 124 | Endomotor – Endodontic Electric Motor |
| 125 | Endoscopic sinus surgery set Xenon head light with camera system |
| 126 | Endoscopic Ultrasound |
| 127 | ENT Operating Microscope |
| 128 | ENT Workstation |
| 129 | ESWL |
| 130 | ETO machine 100 lit |
| 131 | ETO Sterilizer |
| 132 | Excimer Coronary laser Atherectomy System with Catheter (50) |
| 133 | Fenestrated adapter |
| 134 | Fibre Optic Light Source |
| 135 | Fibreoptic bronchoscope with monitor and recording facility for adult and paediatric |
| 136 | Fibre-optic Video Bronchoscope |
| 137 | Fibro Scan |
| 138 | Flexible rhino-pharyngo-laryngoscope |
| 139 | Flow cytometry with Cell Sorter |
| 140 | Fourier-Transform Infrared Spectroscopy |
| 141 | Fragment Analyser/On Chip Electrophoresis Devices |
| 142 | FT-Infrared Spectrophotometer with ATR and Pellet Press |
| 143 | FT-Infrared Spectrophotometer with Pellet Press |
| 144 | FTIR with ATR Arrangement |
| 145 | Full body pregnancy simulator |
| 146 | Full size Inhalation Exposure System |
| 147 | Fully Automated Cell Counter (3 part) |
| 148 | Fully Automated Coagulometer |
| 149 | Fully automated Gel Documentation system with UPS back up |
| 150 | Fully Automated Haemoglobin HPLC System (Model: Variant II Haemoglobin Testing System) (PAC) |
| 151 | Fully Automated Multiplex Film Array Syndromic System (Model: Film Array TORCH 2.0) |
| 152 | Fully Automated Rotary Microtome with accessories |
| 153 | Gamma Camera |
| 154 | GAS Chromatography – Mass Spectrometer with flame Ionization detector (GC-MS with FID) |
| 155 | GC- Electron capture detector (ECD) |
| 156 | GC- Flame Ionization detector (FID&NPD) |
| 157 | GC/MS |
| 158 | GC-HS |
| 159 | GC-HS with FID detector |
| 160 | GCMS-MS (QQQ) with HS |
| | |
| --- | --- |
| 161 | Gel electrophoresis horizontal with compatible power pack and accessories |
| 162 | GLC with Head Space |
| 163 | Gluteal IM Injection model |
| 164 | Gradient PCR Machine |
| 165 | Gradient Thermal Cycler with standalone UPS |
| 166 | Grossing Station |
| 167 | Hand foot UV phototherapy device |
| 168 | Hand held Doppler (vascular) |
| 169 | Handheld ICG Fluorescence Imaging System (Burns and Plastic Surgery Block) |
| 170 | Harmonic scalpel |
| 171 | HDR Brachytherapy |
| 172 | Hemo Analyser |
| 173 | Haemodialysis Machine with SLED |
| 174 | High Content Screening System |
| 175 | High Dimensional Flow Cytometry Analyser |
| 176 | High End Virtual Simulator for Intraocular Surgery Training (Eyes Surgical; Simulator-VR Magic) (PAC) |
| 177 | High Performance Liquid Chromatography – Analytical with Auto Injector |
| 178 | High performance Thin Layer chromatography (HPTLC) |
| 179 | High Resolution GCMS /MS |
| 180 | High Resolution Manometry |
| 181 | High Resolution Orbitrap Mass Spectrometer |
| 182 | High Through put Real Time PCR |
| 183 | High throughput single cell analysis system |
| 184 | High-Performance Liquid Chromatograph with PDA/DAD/RI/FLD |
| 185 | High-Performance Liquid Chromatograph with PDA/RI/FLD |
| 186 | High-Performance Liquid Chromatograph with Ultraviolet Detector/High-Performance Liquid Chromatograph with UV Detector |
| 187 | High-Performance Liquid Chromatography- Analytical with auto injector |
| 188 | High-Performance Thin-Layer Chromatography |
| 189 | High-Performance Thin-Layer Chromatography (HP TLC)-MS |
| 190 | Holmium Laser 100W |
| 191 | Holmium LASER System with MOSES Technology (Lumenis Pulse 120H) (PAC) |
| 192 | Holter monitor |
| 193 | HPLC based automated analyser for HbA1c & hemoglobinopathy testing |
| | |
| --- | --- |
| 194 | HPLC based automated analyser for HbA1C testing |
| 195 | HPLC Preparative (Lower Version) |
| 196 | HPLC system |
| 197 | HPLC system for haemoglobin analysis |
| 198 | HPLC with fraction collector |
| 199 | HPLC-ICP/MS |
| 200 | HPTLC with MS |
| 201 | Hydrogen Peroxide Decontamination System |
| 202 | Hyperthermic Intra Vesicular Therapy (Combat BRS Recirculating Fluid Warming System) (PAC) |
| 203 | ICP Monitor |
| 204 | ICP MS |
| 205 | IHC Immunostainer |
| 206 | Ilizarov Instrumentation Set Complete with Accessories as |
| 207 | Image analyser cum viral foci counter |
| 208 | Immunoanalyser (Chemiluminescence based) fully automated with UPS back up |
| 209 | In vivo Animal imaging System |
| 210 | Incinerator |
| 211 | Individually ventilated cages/housing system for small animals |
| 212 | Infant Multipurpose Resuscitator cum Operating Beds |
| 213 | Intense Pulse Light Device |
| 214 | Intra Operative Nerve Monitoring |
| 215 | Invasive BP Monitoring System |
| 216 | Inverted Fluorescent Microscope with Live Cell Imaging Capability |
| 217 | Inverted Trinocular Epifluorescence Microscope with Imaging system |
| 218 | Ion Chromatograph |
| 219 | IPL (Intense Pulse Light System) |
| 220 | IUD insertion trainer uterus |
| 221 | Karl Fischer Titrator (Semi-Micro Determination of Water) |
| 222 | Laparoscopic Surgery set with High-Definition camera |
| 223 | Laparoscopic Surgery Set with Hysteroscope & resectoscope with High-Definition Camera & Monitor |
| 224 | Laser for existing Confocal Microscope |
| 225 | Lasik Machine |
| 226 | LCMS |
| 227 | LCMS MS |
| 228 | LC-MS/MS (QQQ) |
| 229 | LEEP System with Smoke Evacuator & integrated cart |
| 230 | Leyla Retractor System |
| | |
| --- | --- |
| 231 | Life Port Kidney Transporter With 05 Sets of Expendables with Each Equipment (PAC) |
| 232 | Liquid Based Cytology System |
| 233 | Liquid Particle Counter |
| 234 | Low Energy Linear Accelerator (LA) System |
| 235 | Lymphovascular Microscope |
| 236 | Magnetic Bead based Multiplex Immunoassay system |
| 237 | Measurement of Lung clearance index (LCI) |
| 238 | Medical Thoracoscope (semi rigid) |
| 239 | Melting- Point Apparatus |
| 240 | Mercury analyser |
| 241 | Metaphase Finder System with Fluorescence |
| 242 | Micro Needling Radio Frequency Equipment |
| 243 | Microinjection system (Microinjector, Micromanipulator, Pipette puller) |
| 244 | Micro method bilirubin analyser |
| 245 | Microplate multimode reader |
| 246 | Microscope (with Phase Contrast and Camera attachment) |
| 247 | Microvascular Instruments Set |
| 248 | Microwave digestion System |
| 249 | Motor (electric) Dermabrader |
| 250 | MRI |
| 251 | MRI 1.5 T |
| 252 | MRI 3T T |
| 253 | MSK-USG with linear transducer |
| 254 | Multimode Microplate Reader and Fluorometer |
| 255 | Multimode Reader |
| 256 | Multiplex Protein Array System |
| 257 | Multiplex Suspension Array System based on xMAP Technology |
| 258 | Nanobio Spectrophotometer |
| 259 | NdYag Laser with IPL |
| 260 | ND Yag Laser(1064nm) |
| 261 | Nerve stimulator (intra operative) |
| 262 | Neuro Surgical Drill with all attachments. |
| 263 | Neuropathy analyser-vibration perception threshold + temperature perception threshold |
| 264 | Neurosurgery Operating Table with Accessories |
| 265 | New-born Resuscitation Manikin |
| 266 | Next Generation Sequencer – Higher Version |
| 267 | Next Generation Sequencer – Lower Version |
| 268 | Next generation sequencing machine |
| | |
| --- | --- |
| 269 | Nursing baby with SimPad/Nursing kid with SimPad system |
| 270 | OAE (screening) |
| 271 | Operating Microscope |
| 272 | Operating Microscope (Plastic Surgery)/Plastic Surgery Operating Microscope |
| 273 | Ophthalmic Operating Microscope |
| 274 | Orbitrap Proprietary Mass Spectrometer |
| 275 | Orthopantomogram (OPG) unit |
| 276 | Osmometer |
| 277 | Pacemaker Dual Chamber – External |
| 278 | Pacemaker Single Chamber – External |
| 279 | Patient Care Simulator |
| 280 | Patient Care Simulator with Sim Pad |
| 281 | Patient warming System |
| 282 | PCNL set |
| 283 | Paediatric Bronchoscope set |
| 284 | Paediatric cystoscope and resectoscope set/Cystoscope & Resectoscope – Paediatric |
| 285 | Paediatric High Resolution Fibre Flexible Bronchoscope with recorder and Screen Display |
| 286 | Paediatric laparoscopy set |
| 287 | Paediatric rigid Esophagoscope |
| 288 | PET CT |
| 289 | Phaco Machine |
| 290 | Physical assessment simulator |
| 291 | Platform pedography system |
| 292 | Pneumatic lithotripter |
| 293 | Point of Care Device for estimation of Cardiac Biomarkers (CKMB, Troponin, BNP, Myoglobin) and PT-INR |
| 294 | Point of Care Machine (Trop I, BNP, CPK-MB, CRP) |
| 295 | Polarimeter with Multi Wavelength |
| 296 | Portable Colour Doppler |
| 297 | Portable colour doppler with echo probe |
| 298 | Portable Echocardiography system |
| 299 | Portable Fluorescence Microscope |
| 300 | Portable Ultrasound & Colour Doppler |
| 301 | Potentiometric Titrator with necessary electrode |
| 302 | Potentiometric Titrimeter |
| 303 | Power Assisted Liposuction System |
| 304 | Power Tools for Craniomaxillofacial and hand surgery (Electric micro drill) |
| | |
| --- | --- |
| 305 | Powered Liposuction Set |
| 306 | Preparative floor model refrigerated ultracentrifuge |
| 307 | Protein purification system |
| 308 | Pulsed Field Electrophoresis System |
| 309 | Pure tone Audiometer |
| 310 | QTOF Mass Spectrometer |
| 311 | Quaternary FHPLC (Fast High Pressure Liquid Chromatography) with Fluorescence + visible and PDA detectors with columns and autosampler (Inclusive Software programme + computer + printer+ Online UPS with at least 1 hr backup) |
| 312 | Radiofrequency Generator with integrated vessel sealing and cutting system |
| 313 | Raman Spectroscope |
| 314 | Random access medium throughput fully automated chemistry analyser |
| 315 | Real Time PCR machine with standalone UPS unit |
| 316 | Realtime PCR based detection system for specialised pathogens & viruses |
| 317 | Rigid Bronchoscope |
| 318 | Rigid Thoracoscope (VATS) |
| 319 | Semi-automated ELISA system with washers |
| 320 | Semi Rigid Pleurovideoscope |
| 321 | Shaver System cum micro drill |
| 322 | Single Channel transcutaneous oxygen monitor |
| 323 | Single Planar C-Arm Fluoroscope plus DSA with Fluoroscope Compatible OT Table |
| 324 | Small animal behavioural monitoring, tracking and analysis system with accessories (For safety pharmacology) |
| 325 | Spectrofluorometer |
| 326 | Spectrophotometer |
| 327 | Super Microsurgery System |
| 328 | Temporary Pace Maker Dual Chamber |
| 329 | Temporary Pacer |
| 330 | Texture Analyzer |
| 331 | Thalassaemia And Hemoglobinopathy Testing/Screening System |
| 332 | Thermal Cycler |
| 333 | Tissue Morcellator |
| 334 | TMT machine |
| 335 | TOC analyser |
| 336 | Transcranial Magnetic Stimulator |
| 337 | Transcutaneous bilirubin analyser |
| 338 | Transillumination Caries Detector |
| 339 | Triple Quadrupole Mass Spectrometer |
| 340 | Tube feeding simulator (NG, OG and PEG) |
| 341 | Tympanometer |
| 342 | Ultra-High Performance Liquid Chromatography |
| 343 | Ultracentrifuge with HEPA filter and necessary rotors |
| 344 | Ultra-Fast Liquid Chromatography |
| 345 | Ultrasonic Aspirator |
| 346 | Ultrasonic cutting and Coagulation device |
| 347 | Ultrasound (A+B scan) |
| 348 | Ultrasound machine |
| 349 | Ultraviolet/ Visible Spectrophotometer |
| 350 | Uretero-renoscope- Adult |
| 351 | Uretero-renoscope-Paediatric |
| 352 | Urodynamic System |
| 353 | Uroflowmetry |
| 354 | UV- vis Spectrophotometer |
| 355 | UV/Visual spectrophotometer |
| 356 | Vacuum assisted wound closer system |
| 357 | Vacuum Assisted Tissue Processor |
| 358 | Venepuncture and injection arm |
| 359 | Venous Coupler System |
| 360 | Vertical Gel Electrophoresis Apparatus with Western Blotting Apparatus |
| 361 | Video Bronchoscopy system |
| 362 | Video EEG (EEG apparatus 32 channel digital model with Videometery, stimulus evoked response signal |
| 363 | Western Blot Apparatus with Compatible Power Pack |
| 364 | Workstation for Multi-PTM analysis (Proteomics) |
| 365 | XRD |
Note: List-1 is based on the details, furnished by procuring agencies, till by November 2021 and the List-2 is based on the further details furnished by procuring agencies subsequently.
Annexure-II
This Annexure contains the list of Medical Devices/Equipment, with the details of available local manufacturers, as collated from the Domestic Medical Device manufacturing Associations such as AiMED & ADMI and KIHT (based on the details of medical devices, as furnished by the procuring agencies)
List of 237 Medical Devices/Equipment
Note: The details, as received from the Associations, are incomplete and hence, the concerned local manufacturers are requested to give their full details, as requested in the Notice, to the mail id given in the announcement – pppmii-dop@gov.on
Source –https://pharmaceuticals.gov.in/sites/default/files/Request%20for%20local%20manufacturers%20update.pdf
Update from Pharmabiz News
DoP lists around 500 medical devices and equipment for which it could not identify any local manufacturers
Even though the government had way back in 2017 announced preference to Make-in India products under public procurement, the Department of Pharmaceuticals (DoP) has identified around 500 medical devices for which there is no data on the local manufacturers available even after its attempt to collect data from the domestic manufacturers association.
If no information is received till the end of December, the DoP will further proceed with the action, arriving that the local manufacturers are not available for these medical devices. This comes at a time when there has been a huge push towards Make in India projects and domestic industries have been demanding more preference to the local manufacturers.
For another 237 products it was able to collate data from the domestic medical devices manufacturing associations.
The Department of Promotion of Industry and Internal Trade (DPIIT) has issued the Public Procurement (Preference to Make in India) Order, 2017, on September 16, 2020, following which the DoP had issued guidelines on February 16, 2021 for implementation of the Order related to procurement of goods and services in medical devices.
The DoP received various representations from the procuring agencies under the Government of India with regard to non-availability of Class I and Class II suppliers for identified medical devices or equipment. An exercise was done by the Department to ascertain the local manufacturers from different sources for these identified medical devices and equipment, including from the domestic manufacturers association.
"However, recognising that the manufacturers of the identified medical devices may be spread across the country and may not be member of any manufacturers Association and also to give a reasonable opportunity, the said medical devices/equipment, as received from the procurement agencies are being put in public domain to collect details of local manufacturers," said a latest public notice issued by the DoP.
It has sought details including name of the manufacturing entity, address of registered office and manufacturing location, contact details, email ID and phone numbers, local content percentage of the medical devices, specifications of the medical device equipment and whether it is registered with the government e-Marketplace portal, for smooth implementation of the public procurement policy which gives preference to domestic manufacturers with sufficient local content.
If no information is received in the email-ID provided by the Department latest by December 31, 2021, further action will be taken, arriving that local manufacturers are not available for these medical devices/equipment.
For details of the specifications of the medical devices or equipment in the list, the manufacturer may contact agencies like Central Medical Service Society of Ministry of Health and Family Welfare, Employees State Insurance Corporation of Ministry of Labour, All India Institute of Medical Sciences, New Delhi, Procuring agencies of Ministry of Railways, Director General of Armed Forces Medical Services and HLL Infra Tech Services Ltd of Ministry of Health.
The list 1 of 128 medical devices and equipment for which public procurement agencies were not able to identify local manufacturers include intra-aortic balloon pump, video assisted thoracic surgery and minimally invasive cardiac surgery instrument set, flow track cardiac out monitoring device, ENT Coblator system and standard set of wands, among others. The list 2 of 365 medical devices and equipment include 4D echocardiography, ambulatory blood pressure monitor continuous glucose monitoring system, animal simulator for pharmacology, antibiotic zone reader, blood bank management system using RFID technology, among others. The List 1 was based on details furnished by the procuring agencies till November, 2021 and the List 2 was based on further details submitted subsequently.
Source – http://www.pharmabiz.com/NewsDetails.aspx?aid=144745&sid=1