Entering into 31st year in Consulting Business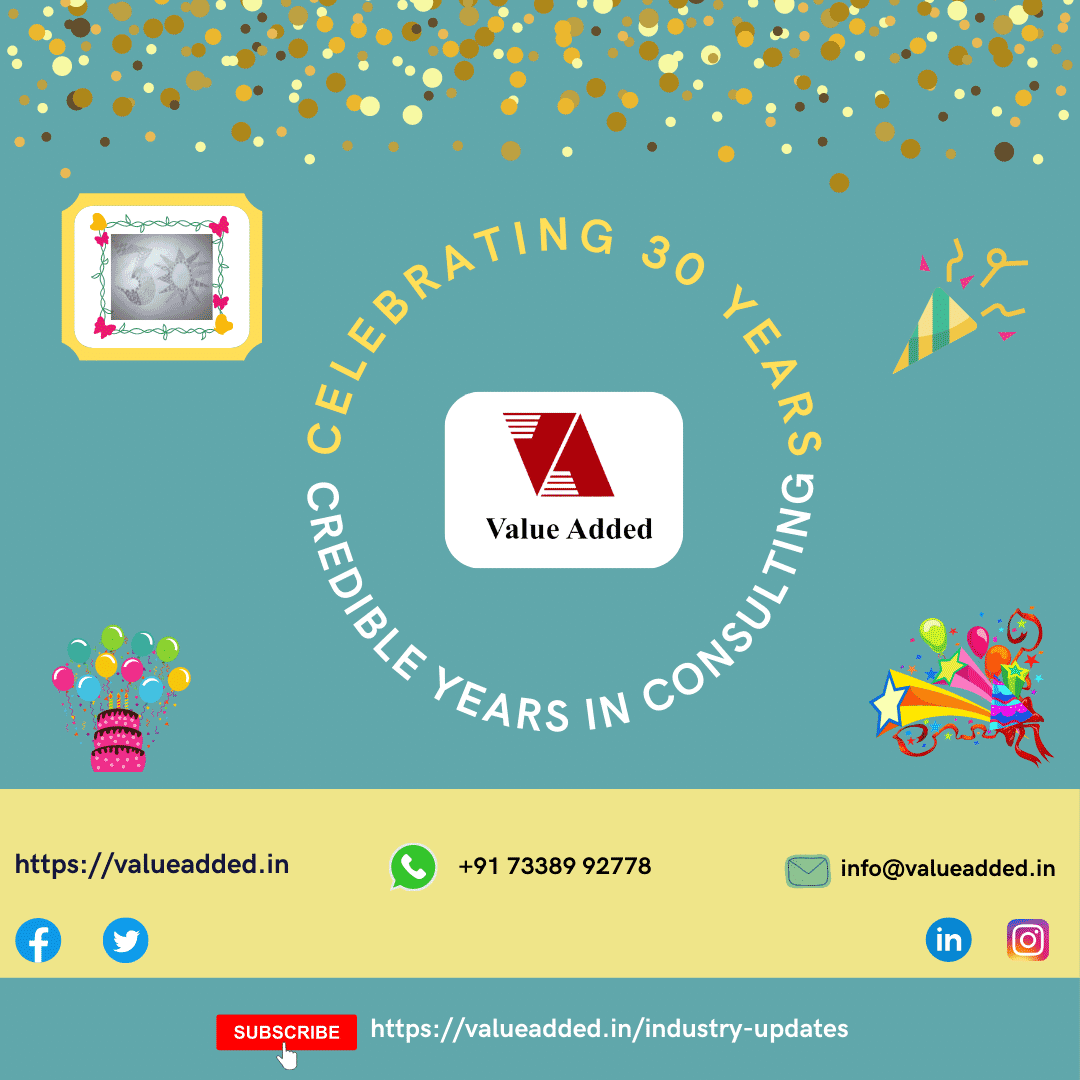 Value Added has turned 30 years in Business Consulting and entering into its 31st year.
A startup 30 years ago which was laid with a strong foundation with a vision to offer Corporate Consulting Services to Businesses. Organisation was built with strong business values, customer focus right from the day one and these were never compromised in any situation, however compelling the business case was .
First decade of Value Added was ripe with Financial Consulting Services offering businesses with Syndication Services to businesses . Foundation for Management Systems Consulting was laid 20 years ago when Value Added roped in Engineers to help businesses improve their operational efficiencies , productivity using multiple Management Systems Standards.
Next 2 decades of Value Added saw us setting out foot into multiple sectors like Manufacturing, IT/ITES, Healthcare, Retail and Other Services Sectors guiding businesses to implement various Management Systems Standards to improve their business performance.
We established a good connect with Growth Stage Businesses and its this segment which has realised the benefit of having businesses processes, systems well defined to improve their employees productivity and deliver good product or service to the satisfaction of their customers. Management Systems Standards have in built customer focus which has helped businesses to focus more on customer satisfaction.
Around the same period, we had strengthened our position in offering Strategic Business Advisory Services to the same growth stage companies advising on M&As, Funding Advisories, JVs, Market Feasibility Studies, Business Growth Advisories, Business Valuations, Business Due Diligence Audits etc.
30 years journey taught us the need to be agile all the time, catering to market needs by offering products or solutions that are needed by the markets, creating a pool of consultants to deliver the same.
NxtGen Business Solutions need to focus on building Digital Elements into the business – every functional domain of the business and overall business focus will have strong digital element embedded into organisational DNA. Businesses have huge #upskilling #reskilling of employees to go Digital. Its hightime for businesses to employ young executives with digital tools knowledge into businesses which is the need of the hour now. Internalisation of Digitital Connect with Customers , stakeholders in the business is the key.
Its time for pivot for Value Added too. We are on a mission to add pool of young Consultants who shall work along with Other Consultants to help businesses Go Digital.
Looking forward to the next innings ! The Value Added Saga will continue. We still continue to maintain the same Business Values, Customer Focus and no compromise on the same.
We take this opportunity to thank all our Customers, Employees, Consultants, Service Providers who believed in us and were part of this journey . We could come this far only with their support . We are blessed to have divine blessings too !
Praying for the Covid 19 to come to a quick closure so that we as humans can focus on our routine and focus on rebuilding many things again .
Request all to take care, stay safe !