In view of the recently reported fire accidents in the country, (both in dedicated Covid Care Centers and other Hospitals, including Nursing Homes), this post captures the latest initiatives from Ministry of Home Affairs, Govt of India to address the fire safety lapses and arrest the rising rate of fire safety incidents in covid care centres in the country.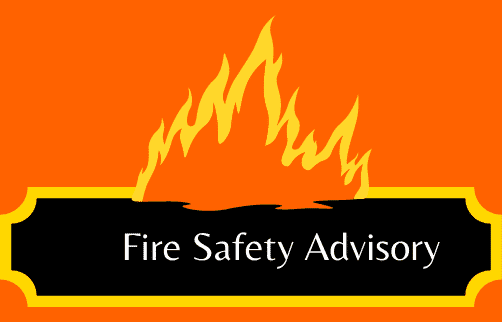 The urgency of addressing the fire safety norms is triggered by the Apex court on November 27 ,2020 followed by fire outbreak in the ICU of a designated COVID hospital at Rajkot in Gujarat in which five patients died. Apex Court had pulled up the states for not taking any concrete action to mitigate the problem despite repeated instances.

The issue had cropped up before the top court which was hearing the matter in which it had taken cognisance regarding need for proper treatment of COVID-19 patients and dignified handling of dead bodies in the hospital.
The Centre informed the Supreme Court that it has directed all states and Union Territories (UTs) to send status report by December 4 on the implementation of fire safety guidelines to prevent fire incidents in hospitals or nursing homes.
Union Home Secretary has directed all the Chief Secretaries of states to ensure due compliance of the November 28 ,2020 directives regarding fire safety guidelines and to immediately re-inspect all hospitals or nursing homes to prevent fire accidents in future.
The government informed the apex court that all states and UTs have been asked to send their action taken reports (ATRs) on the enquiry conducted by them on fire incidents that have occurred in hospitals or nursing homes in the last five years.
All the states and UTs have been directed by Central Govt to update their respective local building Bye-laws or Fire Service Act and to align and make them sync in line with 'Model Bill on Maintenance of Fire & Emergency Services 2019' circulated by Ministry of Home Affairs on September 16, 2019 read with other advisories issued from time to time under National Building Code of India.
NABH (National Accreditation Board Certifying & Accrediting Hospitals & other healthcare organisations for Quality and Safety practices), on its part has asked the NABH accredited & certified Hospitals to send the report by 31st January 2021 covering the following –
To review their Fire Safety Plans, policies and equipment and also update the names of designated Fire Safety Officers in case required.
To conduct extensive fire safety mock drills and trainings including mock evacuation of critical patients, checking the functionality of the fire hose reel etc.
To review and resubmit their updated Fire NOC / application for renewal to the NABH Secretariat. In case NOC is not applicable, as per the state laws, third party audit is to be provided.
The necessary documents must be uploaded in the respective online portals (all accredited Hospitals as well as the HOPE Old Portal Organizations).
HOPE Certified organizations can mail the document with their reference number at admin.hope@qcin.org
Having worked with around 100 plus healthcare facilities in the last one decade, starting from OP clinics, Nursing Homes, Small, Mid, Large Hospitals and upto 1500 bedded Medical College Hospitals etc in South India, we believe that the reasons for rising number of safety incidents are multifold.
We can classify the challenges in implementing Fire Safety compliances & protocols faced by healthcare orgns into following categories –
Infrastructure :
National building code is the base guideline document which specified guidelines for constructing Hospitals. It talks about roof height, staircase, Corridor, Emergency exit etc but very strangely the guideline is silent on constructing a ramp, a mandatory requirement in Hospital building having multiple floors.
Fire system having water storage tank, Hose reels, sprinklers, Fire sensors, Fire Extinguisher, jockey pump, fire pump etc also fall under infrastructure specifications listed in NBC. Unfortunately only very few hospitals have complied with all requirements in letter and spirit.
Manpower:
Dedicated Fire Safety Officer, at least 40% staff trained to handle fire equipments and extinguisher in each shift is lacking in majority of Healthcare organizations as majority of the hospitals don't even have Safety Officers, Facility Management Teams with necessary skill and competency to handle emergencies.
Training :
Fire Safety training during induction and regular training of existing staff is mostly lacking in many Healthcare organizations.
Mock drills:
Normally conducted during accreditation process but not done on a regular basis to demonstrate the capabilities during real fire emergency scenarios. Safety practices are not inculcated as a culture post certification, accreditation process.
Fire License and Fire NOC :
Fire NOC is obtained by majority of the facilities , but the conditions of NOC are never implemented in totality , hence paving way for very few healthcare organisations obtaining the fire licenses. Majority of the hospitals are still outside this framework.
Way forward to make Safety Practices an Organisational Culture and how to meet the fire safety compliances mandated by statute :
Top management commitment is must for budgetary allocation and for right policy decision in this regard.
Take the help of fire department personnel or qualified & competent fire safety personnel (listed out in the NBC) to get list of requirements as part of compliances . A third party audit is useful to identify the GAPs in the system.
Maintenance or any other staff needs to be given role clarity and responsibility to coordinate with Management, Fire department, Fire equipment vendors and contractors etc to establish the fire safety system in the hospital and meeting all fire safety norms and licenses requirements as mandated as per local laws.
Once fire system is established Quarterly training to be given to all staff on fire safety protocols, handling fire safety equipments, evacuation of patient and staff, code red protocols etc
Fire Safety training should be made part of induction training programme for all new joiners which is not followed as a HR protocol in many healthcare organisations.
Regular maintenance of fire safety system to keep it battle ready.